Cruise Group Specials ** Cruise Group Discounts
Discount group cruises ** Group cruise prices
All cruise lines ** Senior price specials

















WELCOME TO CRUISECAPTAIN.COM
A SALTY DOG CRUISE AND TRAVEL COMPANY

CALL US TOLL-FREE AT:
1-87-SALTYDOG (1-877-258-9364)
or @ 972-678-1881 FAX 469-675-2104
Or Send E-mail to CRUISECAPTAIN.COM

---

---




GROUP BOOKING INFORMATION




If you are responsible for a company seminar, a family reunion, any type organization, or just a group of friends, give us a call and we will assist you in planing and booking an occasion that last forever in the minds of your group.

Your group may be an association; an athletic organization; a business organization; a club; a community organization; an environmental organization; your family; a fraternal organization; a labor organization; a political organization; a religious organization; a senior citizens organization; a school class; a veterans/military organization; or who cares.

All major cruise lines offer the cruise travel agencies free space every time we book a "cruise-line-defined" number of cabins per cruise. As a service to your group, Cruisecaptain will pass this savings on to our groups as a thank you for booking with us. The savings can be in the form of a reduction in all pricing (shared by all participants) on the cruise, or a free cabin for the tour leader for their effort in organizing the sailing.

The ratio of cabins booked to free allowances can vary by cruise line and by cruise, but normally there is one free cabin for each 15 PAID cabins booked at double occupancy. If you are planning a group cruise, the cruise lines require that a group be made up of a minimum of 8 cabins, or 16 passengers based on double occupancy. The first 15 passengers pay a reduced group rate, but passenger number 16 pays only fees/taxes. Your group may receive free berth. If your group has 32 passengers in 16 double cabins, then passenger 1 through 30 pay the reduced group rate but passengers 31 and 32 pay only fees/taxes. Now your group has received two free berths or 1 free cabin.



Call Salty Dog Cruise and Travel today to see how easy it is to book you r group!



---



---
CLICK HERE TO
REQUEST A CRUISE QUOTE
---
RESORT SPECIALS FROM GOGO VACATIONS

---
RESORT SPECIALS FROM FUNJET VACATIONS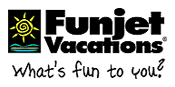 ---
RESORT SPECIALS FROM SUPERCLUBS

---
RESORT SPECIALS FROM SANDALS

There are 12 tropical COUPLES ONLY resorts on the enchanted isles of Jamaica, Antigua, St. Lucia and The Bahamas, created exclusively
for two people in love
.
---
RESORT SPECIALS FROM BEACHES

There are 4 tropical resorts on the enchanted isles of Jamaica, and Turks & Caicos, created exclusively for anyone.

SINGLES, COUPLES, FAMILIES, FRIENDS, and ESPECIALLY YOU

.
---
We receive high volume discounted prices with: SuperClubs, Breezes, Hedonism, Sandals Resorts, Beaches Resorts, Carnival Cruise Line, Princess Cruises, NCL Cruise Line, RCCL Cruise Line, Costa Cruises, Holland America, Cunard, Celebrity Cruises, Regent, Royal Caribbean, Norwegian, Seabourn, Silver Seas, Crystal, MSC, Disney Cruise Line, Windstar.


Just call Salty Dog Toll-Free @ 1-877-258-9364
(1-US-SALTYDOG) on the phone dial!!
E-Mail us at CRUISECAPTAIN
All prices are subject to change prior to deposit being made.
---
We are affiliated with the one of the largest agencies in the world with independent agents located throughout the United States. We specialize as a major cruise and travel agency and our clients are worldwide. We have computer access to hundreds of group sailings and resorts at discounted rates that we pass on to our customers. Following are some of the Cruise Lines that we offer to our clients: Carnival Cruise Line, Princess Cruises, NCL Cruise Line, RCCL Cruise Line, Costa Cruises, Holland America, Cunard, Celebrity Cruises, Norwegian Cruises, Crystal, Royal Caribbean, Disney Cruise Line, Windstar, Regent. Let us help you plan your next vacation cruise, birthday cruise, wedding cruise, honeymoon cruise, anniversary cruise, graduation cruise, spring break cruise, holiday cruise, Valentine cruise, or just cruise cruise. Here are some of the cruise locations that WE can help you plan cruises for: Alaska, Hawaii, Mexican Riviera, Baja, Panama Canal, Southern Caribbean, Eastern Caribbean, Western Caribbean, Trans - Atlantic, Europe, Mediterranean, Baltic Sea, Scandinavian, Holy Lands, Greek Islands, South American, Canada.
Following are some of the vacations we offer:
SUPERCLUBS, THE CARIBBEAN'S ONLY SUPER-INCLUSIVE RESORTS, HAS A RESORT THAT'S JUST RIGHT FOR YOU! BREEZES, AND HEDONISM - It's luxury. It's active. It' s a little wicked.
When SuperClubs created the totally all-inclusive vacation concept, they changed the face of the travel industry overnight. In one skillful move, we focused the world's attention on a friendly, hospitable island where lush green mountains sweep into the crystal waters of the Caribbean. We set out to provide a vacation experience unlike anything anybody had ever seen before. From the world's best land and water sports, including golf and scuba, to candle lit dinners and moonlight strolls along powder-soft beaches.

ULTRA ALL INCLUSIVE RESORTS ARE SANDALS FOR COUPLES ONLY, and BEACHES RESORTS FOR EVERYONE. Sandals Resorts on Jamaica: Sandals White House, Sandals Montego Bay, Sandals Royal Caribbean, Sandals Negril Beach , Sandals Carlye Inn, Sandals Grande Riveria Beach Villa & Golf Resort in Ocho R ios . Sandals Resorts on Antigua: Sandals Grande Antigua. Sandals Resorts on St. Lucia: Sandals La Toc Golf Resort & Spa, Sandals Halcyon, Sandals Grande St Lucian Beach; Sandals Resorts on Bahamas: Sandals Royal Bahamian Resort, Sandals Emeral Bay.

Beaches Resorts on Jamaica: Beaches Negril, Beaches Sandy Bay, Beaches Boscobel: Beaches Resorts on Turks and Caicos: Beaches Turks and Caicos Resort and Spa.

We also offer almost every resort, all-inclusive and not, in almost all locations in the world!!
© Copyright 2011 Salty Dog Cruise and Travel. Many of the photos and descriptions are courtesy of the vendors.
| | | | |
| --- | --- | --- | --- |
| SANDALS RESORTS | BEACHES RESORTS | CELEBRITY CRUISES | COSTA C RUISES |
| DISNEY CRUISES | HOLLAND AMERICAN CRUISES | NORWEGIAN CRUISES | ORIENT CRUISE LINE |
| PRINCESS CRUISES | REGENT CRUISES | CARNIVAL CRUISE LINE | ROYAL CARIBBEAN CRUISES |
| MSC CRUISE LINE | SEABOURN | WINDSTAR CRUISES | |
| ACAPULCO | ALASKA | AMSTERDAM | ATHENS |
| AUSTRALIA | BAHAMAS | BALTIC | BARBADOS |
| BERMUDA | CANADA | CANAL | CARIBBEAN |
| COPENHAGEN | DENMARK | EUROPE | FLORIDA |
| GREECE | GREEK ISLES | HAWAII | ISTANBUL |
| LONDON | MEDITERRANEAN | MEXICAN RIVIERA | MEXICO |
| NEW YORK | NORWAY | PANAMA | PUERTO RICO |
| RUSSIA | SAN JUAN | SCANDINAVIA | SOUTH AMERICA |
| STOCKHOLM | TAHITI | SPECIAL | DISCOUNT |
| HONEYMOON | WEDDING | ANNIVERSARY | VACATION |
---
---