Princess Cruise Discounts ** Princess Cruise Specials

WELCOME TO CRUISECAPTAIN.COM
A SALTY DOG CRUISE AND TRAVEL COMPANY
Just call Salty Dog Toll-Free @ 1-877-258-9364
(1-US-SALTYDOG) on the phone dial!!
E-Mail us at CRUISECAPTAIN
---

---
---
SEA PRINCESS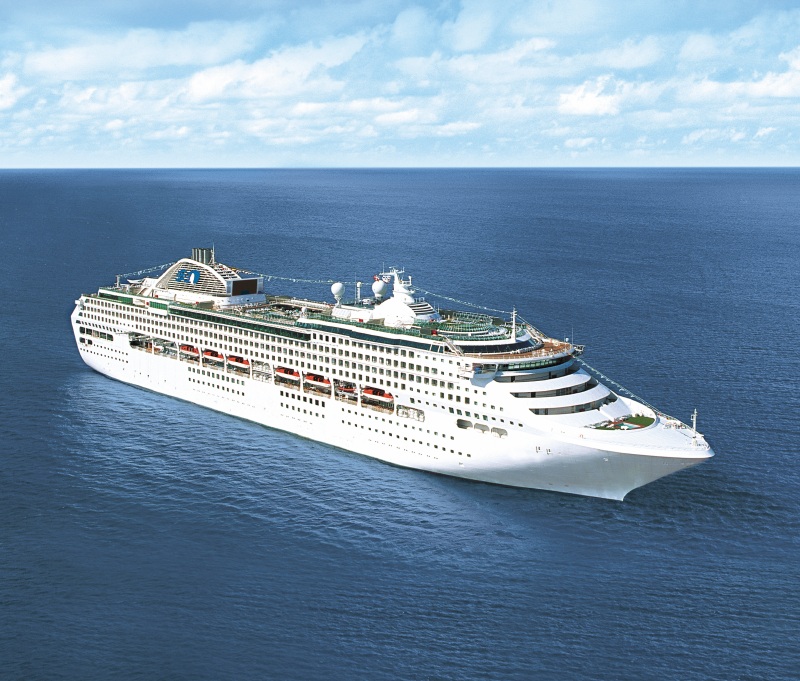 Not long ago, Sea Princess was updated to include The Sanctuary®, a secluded oasis just for adults, rendering this ship a relaxed, rejuvenating retreat at sea. Whether you're cutting into a juicy steak cooked to order in the dining room, or enjoying the luxury of a special breakfast just for booking a suite, you'll be taken care of onboard as you sail to fascinating destinations all over the world with Sea Princess.
Sea Princess Staterooms
Suite With Balcony
Twin beds that make up into a queen-size bed. Sitting room area with sofa bed and balcony for entertaining. Two TV's. Refrigerator. Spacious closet. Bathroom with two sinks and tub and shower. Approximately 538 to 695 square feet including balcony.
Mini-Suite With Balcony
Private bedroom with a queen-size bed. Sitting room area with sofa bed and balcony for entertaining. Two TV's. Refrigerator. Walk-in closet. Bathroom with tub and shower. Approximately 370 to 536 square feet including balcony.
Balcony
Two lower beds, which make up into a queen-size bed. Sitting area with desk. Balcony. Television. Refrigerator. Spacious closet. Approximately 179 square feet including balcony.
Oceanview Deluxe
Similar to the oceanview double, deluxe staterooms are larger with the same features in a different layout. Approximately 173 square feet.
Oceanview Double
Two lower beds, which make up into a queen-size bed. TV. Refrigerator. Spacious closet. Picture window (categories GG-HH obstructed). Approximately 135 to 155 square feet.
Oceanview Obstructed
Oceanview staterooms with partially or obstructed views are a great value. They feature a picture window providing natural light and added ambience. You'll find them comfortable and welcoming with all the amenities of an interior stateroom.
Interior Double
Two beds, which make up into a queen-size bed. TV. Refrigerator. Spacious closet. Approximately 135 to 148 square feet.

Sea Princess Dining
Our Princess chefs are true culinary artists who insist on serving the very finest cuisine - and it shows. Our entire fleet has been inducted into the prestigious Chaîne des Rôtisseurs gastronomic society. Each chef's menu is creative and the selections change every day. Pair that with impeccable service and you're in for an unforgettable gourmet experience.
Traditional
This ship offers several formal dining rooms in the cruise tradition, with Traditional Dining at the same times for each meal, with attentive service provided by your own waiter throughout the cruise.
Anytime
Anytime Dining means you aren't limited to eating at a fixed time or place on the ship. Instead, the choice of when and where you want to eat is flexible, based only on your stomach's whim.
Specialty
Our ships' restaurants are always in big demand and this ship's options are no exception, serving up exquisite local specialties and gourmet favorites. Reservations recommended. Cover charge applies.
Sterling Steakhouse
Ultimate Balcony Dining(

SM)
Casual
Want to maximize your pool time and minimize your mealtime? Get a quick and satisfying bite whenever you like at our Casual Dining eateries, or get take-out and dine by the pool.
Horizon Court Buffet
Wine bar
Patisserie
Sundaes ice cream bar
Café Corniche
Riviera Grill (burgers & hot dogs)
Afternoon tea
24-hour Room service
Sea Princess Entertainment
To say the nightlife onboard is entertaining is an understatement. Illuminating the stage in captivating productions, our performers are some of the most talented musicians, singers and dancers at sea. Our Princess Signature Shows, lounge performers, movies and casinos are just some of the entertainment our passengers enjoy as they escape completely.
Theaters
This ship's theater venues are designed with great acoustics, the best seats in the house, and stellar acts. The movies shown are all first-run feature-length films.
Princess Theater
Vista Show Lounge
Movies Under the Stars® outdoor theater
Hot Spots
Our ship's Hot Spots are just that — sizzling! They vary depending upon the ship and feature dazzling casinos, our Movies Under The Stars outdoor theater, night clubs, dance floors and more.
Lounges
Whether you're in the mood for a cozy space to sip cocktails with someone special or a swanky place to savor a cigar and make new friends, Princess ships provide it all.
Wheelhouse Bar
Razzmatazz
Crooners Bar
Premier Cru
Sea Princess Activities
The many activities onboard our ships are designed to stimulate, educate, entertain, inspire and sweat - not necessarily in that order. But, you can be sure we'll do our best to cover all the bases. And from art auctions to yoga, this ship is loaded with fun things to do.
Pools & Spas
Sometimes floating serenely just isn't enough - splash around, ride the waves, swim against the current or take a dip in one of this ship's bubbling hot tubs.
Riviera Pool (plus 2 hot tubs)
Lotus Spa® Pool (plus 2 hot tubs)
Sports
Our ships will keep you on the run, literally, with basketball, paddle tennis, jogging tracks and state-of-the-art gyms equipped with machines that'll keep your heart rate pumping.
Lotus Spa

®

, gym and fitness area
Sports Court
Shuffleboard
Enrichment
When is a cruise an opportunity to enrich? When it's a Princess cruise. This ship offers area lectures, art exhibits and classes taught by local experts.
World-class art collection, gallery and auctions
ScholarShip@Sea

®

24-hour Internet service (wireless access available)
Library and writing room
Boutiques
Deals on designer clothing and gifts, including Lladro, Swarovski, Calvin Klein, Tommy Bahama, Lancome, Clinique, Estee Lauder, and Fossil - all up to 30% off.
With Princess, young kids and teens have their own kind of fun - and their own place to hang out. Our youth and teen centers are fully equipped with everything from the latest video games and movies, to arts and crafts, fooseball tables, board games and jukeboxes. And for the littlest ones, activities like kids' karaoke, pizza parties, pajama nights and more.
Kids & Teens
This ship's activities run the age-appropriate gamut for those under 18 - from Princess Pelicans (ages 3 to 7), and Shockwaves (ages 8-12), to Remix (ages 13-17).
Youth Center
Video arcade
---
---
We are affiliated with the one of the largest agencies in the world with independent agents located throughout the United States. We specialize as a major cruise and travel agency and our clients are worldwide. We have computer access to hundreds of group sailings and resorts at discounted rates that we pass on to our customers. Following are some of the Cruise Lines that we offer to our clients: Carnival Cruise Line, Princess Cruises, NCL Cruise Line, RCCL Cruise Line, Costa Cruises, Holland America, Cunard, Celebrity Cruises, Norwegian Cruises, Crystal, Royal Caribbean, Disney Cruise Line, Windstar, Regent. Let us help you plan your next vacation cruise, birthday cruise, wedding cruise, honeymoon cruise, anniversary cruise, graduation cruise, spring break cruise, holiday cruise, Valentine cruise, or just cruise cruise. Here are some of the cruise locations that Salty Dog can help you plan cruises for: Alaska, Hawaii, Mexican Riviera, Baja, Panama Canal, Southern Caribbean, Eastern Caribbean, Western Caribbean, Trans - Atlantic, Europe, Mediterranean, Baltic Sea, Scandinavian, Holy Lands, Greek Islands, South American, Canada.
We receive high volume prices from our vendors, and offer our clients cruise and vacation special value prices on: Carnival Cruises, Princess Cruises, Norwegian Cruise Line, Royal Caribbean Cruise Line, Costa Cruises, Holland America Cruises, Cunard Cruise Line, Celebrity Cruises, Regent Cruises, Royal Caribbean, Norwegian, Seabourn, Silversea, Crystal, Disney Cruise Line, MSC cruises, Windstar, Sandals Resorts, Beaches Resorts, Superclubs Resorts, Funjet Vacations, GOGO Vacations, and all other tour companies.

---
RESORT SPECIALS FROM GOGO VACATIONS

---
RESORT SPECIALS FROM FUNJET VACATIONS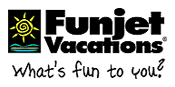 ---
RESORT SPECIALS FROM SUPERCLUBS

---
RESORT SPECIALS FROM SANDALS

There are 13 tropical COUPLES ONLY resorts on the enchanted isles of Jamaica, Antigua, St. Lucia and The Bahamas,
created exclusively for two people in love.
---
RESORT SPECIALS FROM BEACHES

There are 4 tropical resorts on the enchanted isles of Jamaica, and Turks & Caicos, created exclusively for anyone.
SINGLES, COUPLES, FAMILIES, FRIENDS, and ESPECIALLY YOU.
---
Following are some of the vacations we offer:
SUPERCLUBS, THE CARIBBEAN'S ONLY SUPER-INCLUSIVE RESORTS, HAS A RESORT THAT'S JUST RIGHT FOR YOU! BREEZES, AND HEDONISM. It's luxury. It's active. It' s a little wicked. When SuperClubs created the totally all-inclusive vacation concept, they changed the face of the travel industry overnight. In one skillful move, we focused the world's attention on a friendly, hospitable island where lush green mountains sweep into the crystal waters of the Caribbean. We set out to provide a vacation experience unlike anything anybody had ever seen before. From the world's best land and water sports, including golf and scuba, to candle lit dinners and moonlight strolls along powder-soft beaches.

ULTRA ALL INCLUSIVE RESORTS ARE SANDALS FOR COUPLES ONLY, and BEACHES RESORTS FOR EVERYONE. Sandals Resorts on Jamaica: Sandals White House, Sandals Montego Bay, Sandals Royal Caribbean, Sandals Negril Beach , Sandals Carlye Inn, Sandals Grande Ocho Rios. Sandals Resorts on Antigua: Sandals Antigua. Sandals Resorts on St. Lucia: Sandals St. Lucia, Sandals Halcyon, Sandals Grande St Lucian Beach; Sandals Resorts on Bahamas: Sandals Royal Bahamian Resort, Sandals Emeral Bay.

Beaches Resorts on Jamaica: Beaches Negril, Beaches Sandy Bay, Beaches Boscobel: Beaches Resorts on Turks and Caicos: Beaches Turks and Caicos Resort and Spa.

We also offer almost every resort, all-inclusive and not, in almost all locations in the world!!
---
Visit our other web site @ www.CruiseSaltyDog.com for more details and our cruise booking form.





California Seller of Travel CST# 2036509-50

© Copyright 2011 Salty Dog Cruise and Travel. Many of the photos and descriptions are courtesy of the vendors.
| | | | |
| --- | --- | --- | --- |
| SANDALS RESORTS | BEACHES RESORTS | CELEBRITY CRUISES | COSTA CRUISES |
| DISNEY CRUISES | HOLLAND AMERICAN CRUISES | NORWEGIAN CRUISES | |
| PRINCESS CRUISES | REGENT CRUISES | CARNIVAL CRUISE LINE | ROYAL CARIBBEAN CRUISES |
| MSC CRUISE LINE | SEABOURN | WINDSTAR CRUISES | |
| ACAPULCO | ALASKA | AMSTERDAM | ATHENS |
| AUSTRALIA | BAHAMAS | BALTIC | BARBADOS |
| BERMUDA | CANADA | CANAL | CARIBBEAN |
| COPENHAGEN | DENMARK | EUROPE | FLORIDA |
| GREECE | GREEK ISLES | HAWAII | ISTANBUL |
| LONDON | MEDITERRANEAN | MEXICAN RIVIERA | MEXICO |
| NEW YORK | NORWAY | PANAMA | PUERTO RICO |
| RUSSIA | SAN JUAN | SCANDINAVIA | SOUTH AMERICA |
| STOCKHOLM | TAHITI | SPECIAL | DISCOUNT |
| HONEYMOON | WEDDING | ANNIVERSARY | VACATION |
---
SANDALS and BEACHES RESORTS