---
RESORT SPECIALS FROM GOGO VACATIONS


---
RESORT SPECIALS FROM FUNJET VACATIONS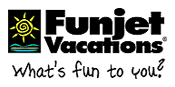 ---
RESORT SPECIALS FROM SUPERCLUBS


---
RESORT SPECIALS FROM SANDALS


There are 13 tropical COUPLES ONLY resorts on the enchanted isles of Jamaica, Antigua, St. Lucia and The Bahamas,
created exclusively for two people in love.
---
RESORT SPECIALS FROM BEACHES


There are 4 tropical resorts on the enchanted isles of Jamaica, and Turks & Caicos, created exclusively for anyone.
SINGLES, COUPLES, FAMILIES, FRIENDS, and ESPECIALLY YOU.
---
Following are some of the vacations we offer:
SUPERCLUBS, THE CARIBBEAN'S ONLY SUPER-INCLUSIVE RESORTS, HAS A RESORT THAT'S JUST RIGHT FOR YOU! BREEZES, AND HEDONISM. It's luxury. It's active. It' s a little wicked. When SuperClubs created the totally all-inclusive vacation concept, they changed the face of the travel industry overnight. In one skillful move, we focused the world's attention on a friendly, hospitable island where lush green mountains sweep into the crystal waters of the Caribbean. We set out to provide a vacation experience unlike anything anybody had ever seen before. From the world's best land and water sports, including golf and scuba, to candle lit dinners and moonlight strolls along powder-soft beaches.

ULTRA ALL INCLUSIVE RESORTS ARE SANDALS FOR COUPLES ONLY, and BEACHES RESORTS FOR EVERYONE. Sandals Resorts on Jamaica: Sandals White House, Sandals Montego Bay, Sandals Royal Caribbean, Sandals Negril Beach , Sandals Carlye Inn, Sandals Grande Ocho Rios. Sandals Resorts on Antigua: Sandals Antigua. Sandals Resorts on St. Lucia: Sandals St. Lucia, Sandals Halcyon, Sandals Grande St Lucian Beach; Sandals Resorts on Bahamas: Sandals Royal Bahamian Resort, Sandals Emeral Bay.

Beaches Resorts on Jamaica: Beaches Negril, Beaches Sandy Bay, Beaches Boscobel: Beaches Resorts on Turks and Caicos: Beaches Turks and Caicos Resort and Spa.

We also offer almost every resort, all-inclusive and not, in almost all locations in the world!!
---
Visit our other web site @ www.CruiseSaltyDog.com for more details and our cruise booking form.





California Seller of Travel CST# 2036509-50

© Copyright 2011 Salty Dog Cruise and Travel. Many of the photos and descriptions are courtesy of the vendors.
| | | | |
| --- | --- | --- | --- |
| SANDALS RESORTS | BEACHES RESORTS | CELEBRITY CRUISES | COSTA CRUISES |
| DISNEY CRUISES | HOLLAND AMERICAN CRUISES | NORWEGIAN CRUISES | |
| PRINCESS CRUISES | REGENT CRUISES | CARNIVAL CRUISE LINE | ROYAL CARIBBEAN CRUISES |
| MSC CRUISE LINE | SEABOURN | WINDSTAR CRUISES | |
| ACAPULCO | ALASKA | AMSTERDAM | ATHENS |
| AUSTRALIA | BAHAMAS | BALTIC | BARBADOS |
| BERMUDA | CANADA | CANAL | CARIBBEAN |
| COPENHAGEN | DENMARK | EUROPE | FLORIDA |
| GREECE | GREEK ISLES | HAWAII | ISTANBUL |
| LONDON | MEDITERRANEAN | MEXICAN RIVIERA | MEXICO |
| NEW YORK | NORWAY | PANAMA | PUERTO RICO |
| RUSSIA | SAN JUAN | SCANDINAVIA | SOUTH AMERICA |
| STOCKHOLM | TAHITI | SPECIAL | DISCOUNT |
| HONEYMOON | WEDDING | ANNIVERSARY | VACATION |
---
SANDALS and BEACHES RESORTS